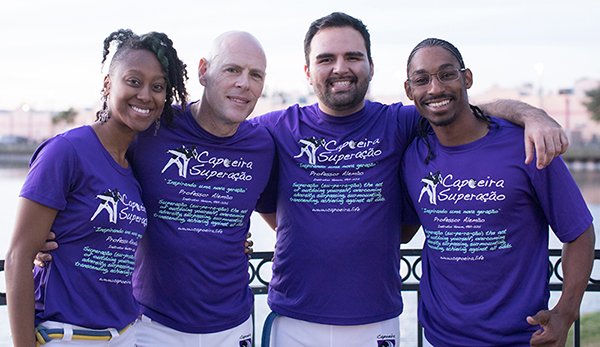 Professor Alemão's Capoeira Journey

When Professor Alemão was first introduced to capoeira in 1995, it was largely an unknown art form outside of Brazil.With seemingly little potential he threw himself into this obscure martial art with the intention of "giving it a try". He studied under Mestre Delei of Minas Gerais, Brazil who had recently begun teaching in South Florida and would open Miami's first full time Capoeira academy. Soon Alemão found himself addicted not only to the fluid movements and hypnotizing rhythms but to the history and culture that made capoeira resistant to our changing times. As the world raced forward with technology during the 90's and into the 21st century, capoeira seemingly remained rooted in another time. The suffering inflicted by the transatlantic slave trade gave rise to something so beautiful and powerful that it still captures the hearts of its practitioners around the globe. He continued to train and much to his surprise began teaching his own students in 1999. Today he enjoys seeing those students graduate and teach classes themselves. Graduated as a Professor of capoeira in 2006 in Santa Catarina, Brazil, He became known as Professor Alemão. At the time he was one of a very small number of non-Brazilians to have the honor of reaching this level. Fluent in Portuguese and a student of Brazilian culture, He has travelled extensively in Brazil. He encourages his students to travel with him to discover capoeira's origins. After founding his own group in 2011 he now joins with other professors and mestres to uplift capoeira and demonstrate its power to change lives. In 2015 his most accomplished student, Instrutor "Jorge Jimenez" Venom unexpectedly died in a car accident. The same month Professor Alemão was diagnosed with stage 2 colon cancer. Despite this blow to the small group, his students came together as he underwent surgery and aggressive chemotherapy. As it became more and more difficult to train he was inspired by the continuing work of his students and the desire to bring purpose to the life of Instrutor Venom. Today he is cancer free and has been able to return to peak fitness in large part with the help of capoeira. He is fullfilling the dream that he and Instrutor Venom had to open a Capoeira studio that would help inspire the next generation. Looking back Professor Alemão realizes that capoeira has provided him the opportunity to travel to Europe, South and Central America, and the Caribbean. He has been featured in print and performed on live television broadcast around the world. But what still brings him the most joy is to see his students find the confidence to achieve what they never thought possible.

Instrutora Dinorá's Capoeira Journey

Instrutora "Stacey" Dinorá began her capoeira journey in 2009 training with Professor Alemão at Florida International University. It's something she had always wanted to do and when the opportunity presented itself she seized the chance to learn. A stubborn perfectionist, she rarely missed a class and soon had learned the basic movements of capoeira. She quickly earned the apelido or nickname of "Dinorá" based upon a woman capoeiraista featured in the movie "Besouro" who more than held her own against the men. Two years later she was integral to the founding of the Capoeira Superação Arts Consortium. Her love for capoeira led her to travel twice to Brazil and participate in capoeira events around the country. In March of 2015, after the death of Instrutor Venom and as Professor Alemão was undergoing chemotherapy, she rose to the occasion by teaching classes and guiding the group through its most difficult months. In May of 2017 she was graduated to Instrutora cord (yellow and blue) beginning her transformation into a teacher of capoeira. She has taught children and adults around South Florida and is known for her student-centered approach and high-energy workouts. As a group fitness instructor she also teaches fitness classes focusing on strengthening the core and improving cardio conditioning. She enjoys seeing her students get into shape, learn new skills and reach their potential.

Instrutor Venom's Capoeira Journey

Instrutor Venom (1989-2015) was one of Professor Alemão's first students, beginning capoeira in a program at Miami Jackson High School which provided free capoeira classes for students who maintained good grades. Although at 12 years old he was younger and smaller than the other students, his enthusiam and full head of hair earned him the apelido (nickname) of "Mico". Micos are small primates in brazil that climb through the trees with endless energy. Mico was one of the most dedicated students and traveled with Professor Alemão to Brazil in 2003 to learn more about capoeira. During the next few years he continued to grow in capoeira and graduated from High School. At 17 years old he joined the Army and went on to proudly serve our country completing tours in Iraq. Upon returning from active duty in 2011 he convinced Professor Alemão to create the group Capoeira Superação Arts and together they began introducing the new group to the greater capoeira community. Earning the new apelido of "Venom" he began training in Brazilian Jiu Jitsu and competed in his first amateur MMA fight. In 2014 he was accepted to Florida International University (FIU) where he studied to become a physical education teacher. His dream was to teach capoeira in public schools, knowing how it had transformed his own life. On March 8, 2015 while driving early in the morning to participate in JROTC exercises at FIU, he was in an accident and died instantly. The shock to his family and the capoeira community was immediate and profound. He is greatly missed and continues to live in all of us who were touched by his short but full life. Today his nieces and nephews train capoeira at our studio and continue his legacy.